From beaches to parks to water sports, there's something for everyone.
Miami boasts over 15 miles of sandy beaches, perfect for a day of lounging or swimming.
Take a stroll down Ocean Drive or head to South Pointe Park Pier for stunning views of the Atlantic Ocean.
For those looking for more adventure, try your hand at kayaking, paddle boarding, or jet skiing on Biscayne Bay.
With so many options available, it's easy to see why Miami is considered one of the top destinations for outdoor enthusiasts.
Parks And Recreation
Image Credit: Miamiandbeaches
Outdoor activities in Miami include hiking, biking, and picnicking. These options provide a chance to enjoy nature, get exercise, and spend time in the park. Miami offers plenty of opportunities for outdoor fun!
Hiking In Miami
Hiking in Miami is a great way to explore the city and get exercise.
With so many parks and recreational areas to choose from, you'll find plenty of opportunities to hit the trails and enjoy the natural scenery that surrounds you.
From the lush greenery of Oleta River State Park to the breathtaking views from atop Bill Baggs Cape Florida State Park, there's lots of places to go hiking in Miami.
Biking In Miami
Biking in Miami is a great way to explore the city and get some exercise while enjoying the beautiful weather. With numerous parks and recreational areas offering bike trails of varying difficulty levels, there's something for everyone here.
Miami offers biking opportunities for both leisure and adventure. Explore lush greenery or rugged terrain while experiencing the city's natural beauty.
Picnicking In Miami
Miami is the perfect place to enjoy a picnic with family or friends, with its sunny weather and beautiful scenery.
From parks to beaches, there are plenty of spots where you can lay out a blanket and indulge in some delicious treats while taking in stunning views.
So pack your favorite snacks and drinks, grab a comfortable spot, and relax as you bask in the natural beauty of this vibrant city.
National Parks
Image Credit: Travelexperiencelive
Camping in one of Miami's national parks is a great way to explore the outdoors and experience nature up close. Kayaking through the Everglades and Big Cypress is a great way to take in the beauty of the area's wetlands and wildlife. Hiking, fishing, boating, canoeing, biking, swimming, snorkeling, birding, nature trails, and picnicking are just some of the many activities you can enjoy in Miami's national parks.
Camping
Everglades National Park is a prime location for camping in Miami, offering several campsites throughout its 1.5 million-acre expanse. The park provides an unforgettable experience with various outdoor activities including hiking trails, kayaking, exploring mangrove forests and spotting wildlife.
Big Cypress National Preserve offers off-the-beaten-path backcountry camping with outdoor activities like fishing, hunting, and hiking through cypress swamps and prairies.
Miami's national parks offer camping opportunities for all who enjoy outdoor activities, whether you prefer roughing it or glamping with modern amenities.
Kayaking
With its vast network of waterways, there is plenty of opportunities for paddling adventures in this beautiful city.
Everglades National Park and Big Cypress National Preserve both offer excellent options for kayakers looking to explore unique landscapes and wildlife habitats.
Wildlife Watching
With its diverse range of ecosystems and animal species, Miami's national parks offer plenty of opportunities for spotting some amazing creatures in their natural habitats.
Everglades National Park is particularly famous for its alligators, which can often be seen basking on the banks or swimming through the waterways.
Meanwhile, Big Cypress National Preserve is home to a variety of rare and endangered species, including Florida panthers and manatees.
Miami's national parks are ideal for nature lovers of all kinds, offering unique wildlife viewing opportunities for both avid birdwatchers and those looking for a glimpse of nature.
Water Sports
Image Credit: Holidify
Let's discuss the best water sports activities for Miami visitors! Paddleboarding, jet skiing, and snorkeling are all great options for getting out on the water and experiencing the beauty of Miami's coastline.!
Paddleboarding
Paddleboarding is one of the hottest outdoor activities in Miami!
With calm waters and stunning views, paddleboarding is perfect for beginners and experienced adventurers. Glide along the shoreline or venture into Biscayne National Park'sclear waters, where you'll likely encounter an array of marine life including sea turtles and colorful fish.
Jet Skiing
Jet skiing is one of the most popular outdoor activities in Miami, Florida. With its clear waters and sunny skies, it's no wonder why people flock to this city for some fun on a jet ski.
Whether you're a beginner or an experienced rider, there are plenty of rental shops throughout Miami where you can rent a jet ski by the hour or day.
Miami's Beaches
I'm here to discuss the best beaches in Miami and the exciting activities you can do while you're there. Let's dive right in and explore the top beaches and the different beach activities you can enjoy!
Top Beaches
Image Credit: Sndimg
Miami Beach's top beaches offer the ultimate outdoor adventure with stunning sand and clear waters to choose from.
There is something for everyone from the ultra-luxurious South Beach to the laid-back vibe of Haulover Beach Park.
Beach Activities
Image Credit: Expedia
Miami offers both relaxation and adventure with options to soak up the sun or hit the waves.
Miami offers opportunities to try surfing in warm waters year-round and many surf schools are available.
If you prefer something more low-key, grab a frisbee or volleyball and enjoy a game with friends on the sand.
Hiking And Walking Trails
Image Credit: Secretmiami
For the more adventurous hikers, Miami offers a variety of trails with varying difficulty levels. From short, easy strolls to long, strenuous hikes.
Trail Difficulty Levels
It's important to know the difficulty levels of hiking and walking trails. Some trails are perfect for beginners while others require more experience and endurance.
The top-rated trails in Miami offer a range of difficulty levels from easy to moderate to difficult. Whether you're looking for a leisurely stroll or a challenging hike, these trails will give you an unforgettable experience amidst nature's beauty.
Trail Lengths
When it comes to outdoor activities in Miami, Florida, having an idea of how long each trail is can help you plan your day accordingly. From shorter walks to longer hikes, there are plenty of options available for all types of adventurers.
So, whether you're looking for a quick workout or an all-day excursion, keep reading to discover the best trail lengths in Miami!
Camping And Glamping
Let's explore the camping and glamping around Miami Florida! We've got a great selection of camping sites, glamping sites, and plenty of amenities and gear to make your outdoor stay comfortable.!
Camping Sites
Image Credit: Timeout
Miami offers camping options for all preferences, from basic tent pads to fully-equipped cabins with air conditioning and kitchenettes.
But if you really want to immerse yourself in nature, check out Hell's Bay Trails and Camping. This remote location offers campsites surrounded by mangrove forests and access to some of the best fishing in South Florida.
Glamping Sites
Image Credit: Outcoast
For a more luxurious outdoor experience, glamping is the way to go
Miami has several options available, ranging from safari tents to fully-equipped cabins with all the amenities you could want.
Glamping offers an opportunity to enjoy being outdoors without sacrificing comfort and convenience.
Whether it's sleeping under the stars or enjoying a hot shower after a long day of hiking, these glamping sites have got you covered.
Eco-Adventure Programs
Let's explore the possibilities of eco-adventure programs in Miami! Explore the swamps and wetlands of the area with an experienced guide There are kayaking tours, where you'll get to paddle around the scenic coasts of Miami. And there's canoeing, which is a great way to get up close and personal with the incredible wildlife of the area.
Guided Swamp Walks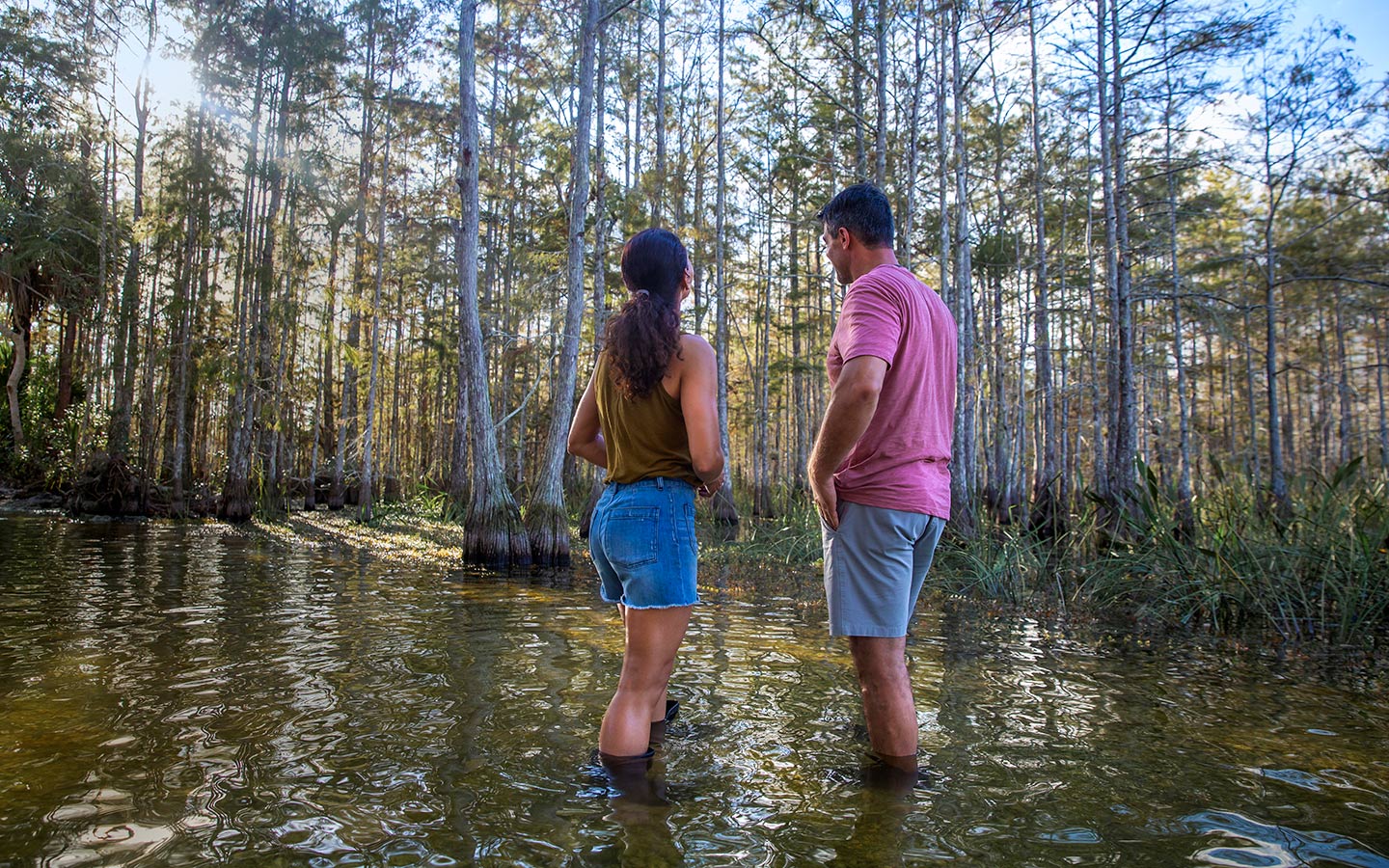 Image Credit: Miamiandbeaches
Immerse yourself in the natural beauty of Miami with guided swamp walks! These outdoor activities in Miami, Florida offer a unique opportunity to explore the lush and mysterious swamplands that surround the city.
With expert guides leading the way, you'll be able to learn about the area's rich history and see exotic wildlife up close.
Guided swamp walks are perfect for nature enthusiasts who want to experience something truly unforgettable.
Kayaking Tours
Image Credit: Expeditiontoflorida
For those who want to experience the beauty of the city from a different perspective, kayaking tours are an excellent choice.
These outdoor activities in Miami allow visitors to paddle through lush mangroves and crystal-clear waters while taking in stunning views of the skyline.
With various tour options available for all skill levels, guided kayak trips are perfect for anyone looking for a unique and exciting way to explore Miami's natural wonders.
Canoeing In Miami
Image Credit: Mediatacdn
Miami offers various outdoor activities that allow visitors to explore the city's natural beauty from a unique perspective. Canoeing tours provide an excellent opportunity to paddle through peaceful waterways and observe local wildlife up close.
With adventure Miami at every turn, you'll be amazed by the serene landscapes and breathtaking views of the Everglades.
Frequently Asked Questions